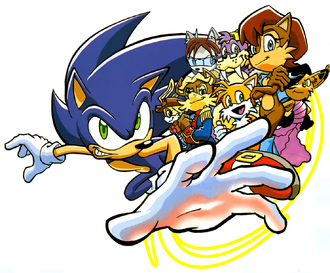 The Freedom Fighters are a group of collective or independent militia/rebel forces that originally formed to oppose the tyranny of Dr. Ivo Robotnik and Dr. Eggman.
Freedom Fighter groups originally acted as individual cells, though would sometimes work together on missions. Each Freedom Fighter group's numbers rarely exceeded a dozen members.Typically, they prefer to use espionage, sabotage and guerrilla warfare. However, the Knothole Freedom Fighters and Chaotix in particular have been known to stage frontal assaults periodically, and have at times enlisted other Freedom Fighter groups in such action as well.
Members:
Current Members:
Antoine Depardieu
Bunnie Rabbot
Nicole Lynx
Rotor Walrus
Former Members:
Renegade (Settled down)
Edwina Robotnik (Settled down)
Future Members:
Ad blocker interference detected!
Wikia is a free-to-use site that makes money from advertising. We have a modified experience for viewers using ad blockers

Wikia is not accessible if you've made further modifications. Remove the custom ad blocker rule(s) and the page will load as expected.